Restore Your Body Today With Our Yoga Classes
Sometimes your body just needs to recharge. That's where we come in. Our yoga Classes in Olathe are a great way to clear your mind and refresh your body after a long week of work, training, and everyday life.
Join us at Surya Yoga and find your inner peace with yoga classes that are great for all experience levels.
Make Yoga Part Of Your Normal Routine
You'd be shocked at how much regular yoga practice can benefit your body. And with the help of our trained professionals, you'll learn how to master every move in order to get the most out of each and every yoga session.
At Surya Yoga, you'll enjoy:
Modifiable movements
Constant feedback and support
A top-of-the-line facility
A peaceful, welcoming environment
We Offer Yoga Classes Fit for Everyone!
If you're interested in starting or continuing your yoga journey, you will find a perfect fit in one of our many classes. We offer an amazing five different options for our members here at Surya Yoga.
Our Learn Classes Include:
Beginner Series
Our Beginner yoga classes are the perfect match for our new yoga students. If you're looking for a class where you can practice with other new students, and you want to learn each pose from the beginning, then join our Beginner Series today! It is designed to introduce you to the yoga studio, yoga props, yoga poses, different types of yoga, and even what to wear and yoga etiquette. Our goal is to put you at ease and help you feel confident about starting your yoga journey.
Yoga Fundamentals 1
Yoga Fundamentals 1 (YF1) is great for students that already know some yoga poses, have been to a few classes, and/or want to stick with the basics and stretch. This class is for everyone, not just beginners! No previous experience is required for YF1, but we recommend taking the Beginner Series if you have NEVER taken a yoga class before. This class consists of laying down poses, seated poses, standing poses, table top poses, balancing poses, breathing, stretching, and using yoga props such as blocks, straps, and blankets.
Yoga Fundamentals 2
Yoga Fundamentals 2 (YF2) is more intense and more difficult compared to YF1. This class includes more abdominal crunches, longer holds in poses such as chair and more standing balancing poses. If you like a challenge and you've been to the other yoga classes, then this class is a perfect fit for you. This class is sure to make you break a sweat and get a great workout in.
Stability & Flexibility
This class combines breathing with poses that are not in a flowing rhythm. The poses are done in a set sequence each time that allows you to really work on each pose and see your progress from week to week. This class is wrist-friendly , meaning no push ups, no table top poses, no up dog, or down dog. No previous experience is required.
Our Chill Classes Include:
Stretch & Chill
This class is exactly what it sounds like! You will be able to stretch and chill out. The stretches in this class are done seated, laying down, and standing with props like blocks, blankets, straps, and bolsters.
Restorative
Restorative Yoga is our only class that is truly passive. You are not supposed to work hard at all in this class. There is very minimal stretching and all of the poses are done seated or laying down, fully supported by lots of blankets and bolsters. Restorative Yoga quiets the central nervous system, bringing down your blood pressure, taking you out of "flight, fight, freeze" and into "rest and digest". This class is unlike any other!
Hot Gentle Flow
Our Hot Gentle Flow class is heated to 90 degrees. This class is great for everyone, from beginners to advanced yogi's. We move slowly in this class, and stretches are held a bit longer than a traditional class. If you like to warm in the winter, then this class is for you!
Our Strength & Stretch Classes Include:
Yoga Sculpt:
This class is physically demanding, only because we move very slowly and work each muscle group until it is fatigued. This class starts with a few sun salutations to warm up, then targeted muscle toning with 3 to 8 pound weights, looped resistance bands and/or blocks. Sometimes we incorporate the yoga wheel for fun! This is a great class to add to your yoga routine as it adds muscle tone.
Mixed Level Flow
In this advanced class we move with the breath, doing sun salutations, dynamic sequences, standing balancing poses, backbends, twists, abdominal crunches, arm balances, and inversions. If you love to try new arm balances or inversions, then this class is for you!
Hot Vinyasa
Vinyasa means to move with your breath. This class moves at a pretty steady pace and you will sweat. This is NOT a beginner level class. If you love arm balances, twisting, standing balancing poses, and working hard, then this class is for you!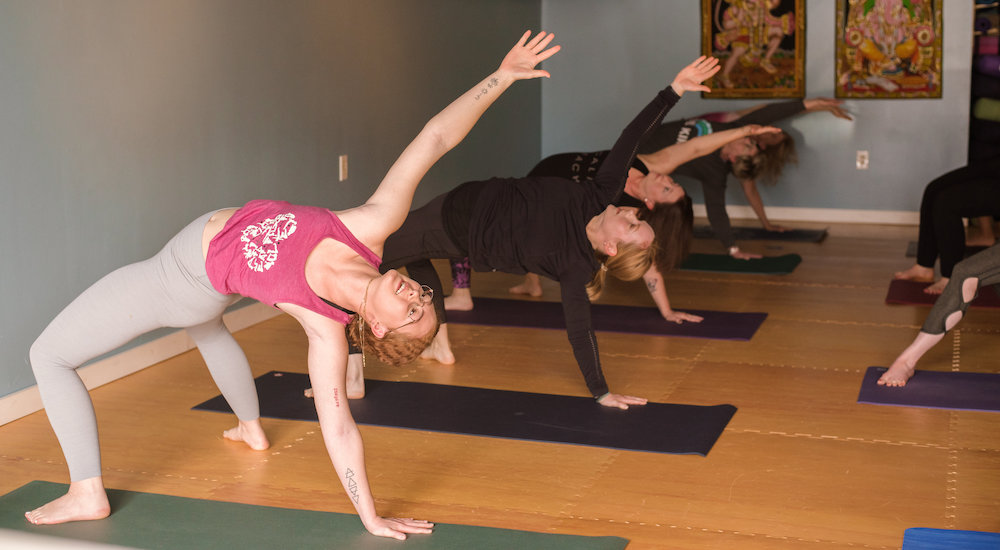 Start Your Yoga Journey Today And See How Real The Results Can Be
Are you ready to take your yoga practice to the next level? Then join us at Surya Yoga for the best yoga classes around. Your body will feel more rested and strengthened than ever before, helping you get more out of the rest of your week.
Get started today by filling out the short form on your screen now! We'll be happy to answer all of your questions right away.