My Yoga Journey
by Crysta Baier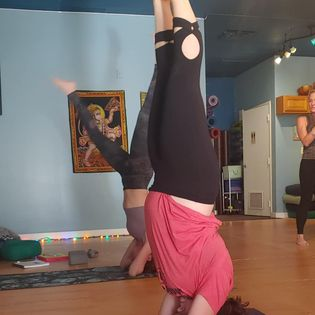 It's a dreary Sunday, and I'm sitting at my favorite local coffee shop reading about Chakras and sipping on mint tea. I'm aware that if you saw my book titled Chakras for Beginners, you might think I was a little strange or new-age-y. But I'm preparing to teach a Heart Chakra yoga class. I'm reading up on the chakras so I have a bit more insight to share with my students. You see, aside from being a teacher of children, I'm also a teacher of yoga. I received my certification this year, the year I turned 50. Becoming a yoga teacher has been something I've wanted to do for years, and now I'm doing it. I am living my dream, so to speak. As the owner of my yoga studio says, "We have the best job ever. We get to make people feel better." I don't take this job lightly.
I started doing yoga officially when I was 17. I stumbled across an article with ten yoga poses in Seventeen magazine. I cut the article out and did these poses every night before bed. I couldn't articulate the effect yoga had on me at the time, but I knew that I was calmer. I slept better. And I liked doing the poses. I never told anyone that I was practicing yoga, but even as a teen, yoga was having a positive impact on my life.
Prior to my teenage foray into yoga, I'd been doing yoga for years and didn't know it. I started gymnastics at the age of five, and before practice, we'd stretch. The stretches were yoga poses. As a kid, I was also a runner. Before practice, we'd stretch. You guessed it -- the stretches were yoga poses. So I grew up with an appreciation for stretching as a prelude to any physical activity. It wasn't until my 30s or 40s when I realized that yoga itself was a physical activity -- a physical activity and a centering activity. I began to see the positive benefits to this practice.
When I was in my 30s, I was busy raising my two children. I attended classes sporadically as my schedule would permit or put on a yoga video from time to time. I loved it, but my focus was more on work and kids. In my 40s, I started attending Yoga in the Vineyard on a regular basis. This combined several of my great loves -- yoga, wine, and socializing with friends. Finally, about five or six years ago when I was going through a tough time, a friend of mine took me to her yoga studio in Olathe, Kansas -- you guessed it, Surya Yoga. I attended classes here occasionally for years. I loved this studio immediately with its chill vibes and gorgeous sun mural. I loved attending classes, but again, I was busy with work and kids. And during this time, I had a child who was fighting cancer. So my priority was her care, not my own self care.
Then the pandemic hit. I knew the owner of my studio, as an independent business owner, was likely struggling to stay afloat. So I bought a package of classes and eventually became a regular studio member. I did yoga virtually, as I could, to help her out and to care for myself as I was struggling, too. Near the beginning of the pandemic, I lost my sweet daughter to cancer. Afterward, I did yoga even more. Yoga was my respite. It allowed me to step out of my head and out of my grief for an hour at a time. I say this in complete seriousness: Yoga saved my life. The practice of breathing and stretching and being present helped me have moments of peace during my sadness. In fact, it still does.
Last fall, I talked to my teacher, the owner of my yoga studio, about her teacher training classes. I knew this was somewhat impractical. What would a person my age do with a yoga teacher certification? I didn't know what my plan was, but I did know I wanted to learn more about the practice of yoga even if it was just for the sake of learning. I talked a friend of mine into joining me, and we embarked on a 200 hour program to become yoga instructors. In February, we "graduated." And within a month, a class opened up at our studio. My friend and I now share a Monday night restorative yoga class. I teach Yoga ! and Stretch and Chill here at the studio as well. In addition, I teach yoga to a group of co-workers, and I've even done a bit of yoga with my students at school.
The importance of this journey to me is not only that I pursued my love of yoga, but that I pursued SOMETHING. As I age, I try not to take a passive role in my life. I believe in constantly learning and striving and growing. To me, becoming a yoga instructor is more than just teaching yoga. It's about running towards life, trying new things, and letting the world know that age is not a deterrent from accomplishing goals. At the end of the day, I know I'm stronger -- inside and out -- for delving a bit deeper into the practice of yoga.
Crysta Baier is a Surya Yoga student and instructor, an elementary librarian and computer teacher, a wife, a mother, and a blogger. If you'd like to read more of her blog posts, go to crystaclearblog.com.